A GUIDE TO
THE SNAKES OF
PAPUA NEW GUINEA
by
Mark O'Shea
Independent Publishing
1996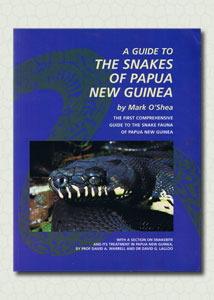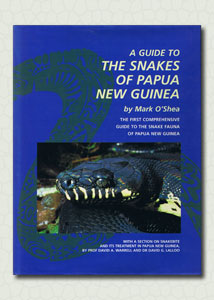 softback and hardback editions
click on the covers to enlarge
The first comprehensive guide to the snake fauna
of Papua New Guinea,
with a section on snakebite and its treatment
in Papua New Guinea,
by Prof. David A.Warrell and Dr David G.Lalloo
Contribution no.147 from the
Christensen Research Institute
xii+239 pages
almost 100 detailed species accounts
over 100 full colour photographs
and a Foreword by Hon Parry Zeipi, M.P., Government of Papua New Guinea
(Minister for Environment and Conservation 1987-1988 & 1992-1995)
Contents:
Snakebite first aid
Wei bilong lukautim manmeri sapos sinek ibin kaikaim em
How to apply a pressure bandage
Foreword
Aims of the Guide
The snake diversity of Papua New Guinea
Fact and Fiction
Snake skulls and snakebite
Sorcery, snakes and snakebite
Conservation of snkes in PNG or Yu no ken kilim sinek
Snakebite and its treatment in Papua New Guinea
How to use the species accounts
Pasin bilong kisim save long dispela buk
Idnetification key to the snake families of Papua New Guinea
(incorporating legless lizards)
Chcklist of snakes and type specimens
Species Accounts:
Snake-like Lizards
Non-venomous Snakes
Mildly Venomous Snakes
Front-fanged Venomous Snakes
Tables
Maps
Checklist
Gazetteer
Glossary
Further Reading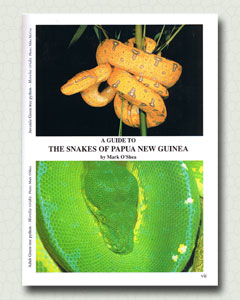 click on the title page above to enlarge
A Guide to the Snakes of Papua New Guinea
is currently out-of-print.
Data is being compiled towards a second edition to include newly described species
such as the pigmy mulga snake Pseudechis rossignolii, the keelback Tropidonophis dolasi,
and the sea krait Laticauda guineai,
incorporating revisions of the death adders, Acanthophis, and white-lipped pythons, Leiopython,
being undertakenby colleagues, collated range extensions,
and important first country records such as
O'Shea's first record of Antaresia maculosus from Western Province, PNG.
Reviews of "A Guide to the Snakes of Papua New Guinea" on Amazon:
The Best Book on the Snakes of New Guinea.
This is an excellent guide to the snakes of the entire island of New Guinea (including West Papua / Irian Jaya).
It includes good keys down to species level, beautiful photos of the most important species, and excellent distribution maps.
There are also chapters in snake bites in PNG and the role snakes play in local culture.
To round it up, there is a check-list of New Guinea snakes and a useful bibliography.
Highly recommended!
W. László (Budapest, Hungary) 2005
The rich snake fauna of Papua New Guinea has been long overdue a comprehensive field guide.
This excellent guide uses clear photographs and diagrams to show the different species and sub-species of Papuan snakes.
It includes up to date taxonomy and is a must for anyone with an interest in this area.
If only all guides could be this readable!
Tony Skinner (England) 2003
---------
This book, the first comprehensive guide to the snakes of Papua New Guinea (PNG), is a tour-de-force.
The 238 pages are literally packed with information, for the most part gathered first-hand by the author.
The format makes such use of all available space that margins etc. are reduced to a mere border on each page,
a worthy effort of which certain American publishers might take note.
The English author has a passion for snakes that has taken him throughout the tropics;
.........
Mark is also a Fellow of the Royal Geographical Society, an affiliate of the National Museum of PNG
and owner of an oft-times ferocious beard.
Without a doubt New Guinea is best known as home to the fantastic birds of paradise,
but it has some magnificent reptiles too in its catalogue of almost 300 species!
And of this immense list there are 93 species of snake.
..........
This book has been a long time in the gestation but the wait was worthwhile;
rarely can so much scholarly effort, and practical field experience have
been sculpted between the covers of a single volume.
David Blatchford (England) 1997
Bulletin of the Chicago Herpetological Society 32(4):85-86
At this time there is only one in print book specifically dealing with
the venomous snakes of PNG, Williams et al's
Venomous Bites and Stings in Papua New Guinea
Also available is the set of stamps designed by Mark O'Shea
and issued by PostPNG in September 2006
Dangerous Snakes of Papua New Guinea